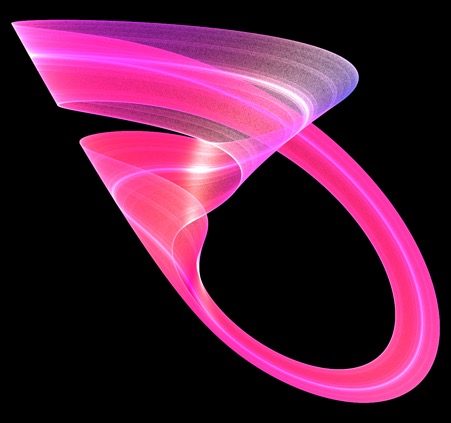 Fotis Begetis is a digital artist based in Athens whose work betrays his twin passions: programmatic 'maths art' and the weird, glitchy landscapes of video games.
His pieces span a broad spectrum; from purely mathematical abstractions to snapshots of 'alien landscapes', warped out of recognition by his digital meddling to raw layers of textures and pixels.
We caught up with Fotis recently and he shared some of his influences and practices in our Snapshot Questionnaire.
Check out his replies and a photogallery of some of work below, and to find out more, go follow him on Facebook.
SNAPSHOT QUESTIONNAIRE WITH FOTIS...
We asked you to choose a favourite piece from your gallery, why this one?
It would be Pink. This was one of the first images I did with maths (I rendered it with strange attractors) which is becoming a constant practice for me. Apart from that, there's a nostalgic feeling about it, about the 1980s when I grew up…
What did your work look like a few years ago? How has your style developed?
It was much more oriented towards painting, now I'm more digitally-oriented.
What do you like to listen to while you're creating your work?
Lots of classical and contemporary classical, electronica, and John Barry and Jocelyn Pook soundtracks; as well as artists like Burial, Alison Balsom, Alfred Deller, Rhys Catham, and Laurie Anderson.
What would you order for your last meal? And is there anyone in particular you'd want to cook it for you? (This might sound like a morbid question, but it's rooted in something fundamentally happy for you).
That would be French-fries and meatballs cooked by my mum! :)
If you could collaborate with any artist, living or dead, who would they be and why?
It would be four women: Char Davies, Muriel Cooper, Laurie Anderson and Lillian F. Schwartz, for the exceptional use of technology in their work.